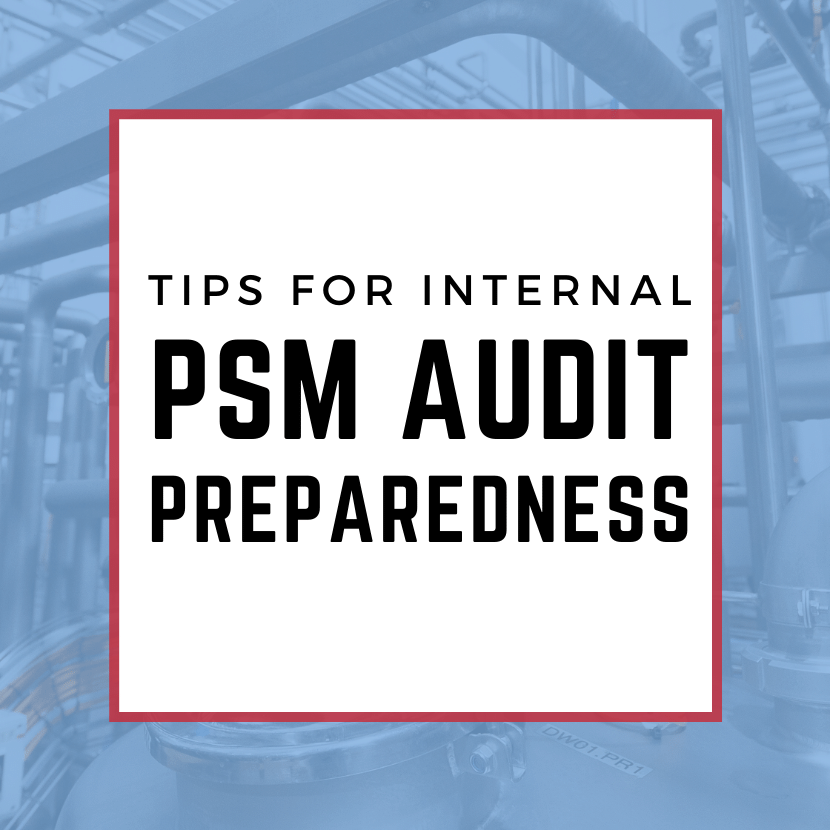 By Adele Mayeaux
Does your process safety management (PSM) audit have you concerned, and are you unsure what to do? Well, you have come to the right place. We have sat on both sides of the audit table, and we can give you a few pointers to ease your mind.
Scrambling for an audit – no matter the variety – can be stressful! It doesn't have to be that way, at least when it comes to internal Process Safety Management (PSM) Program audits. Having a game plan and sharing it with your staff can keep the process from seeming too daunting and can help accomplish the actual task at hand, which is identifying gaps in your PSM program.
A few common pitfalls we see are:
Outstanding PHA recommendations
Vague standard operating procedures (SOP)
Limited Management of Change (MOC) documentation
Inadequate updating of Process Safety Information (PSI), Standard Operating Procedures (SOP), and Mechanical Integrity Reports (MI) after a MOC
However, proper planning can make the process run smoothly.
STAFF PREPAREDNESS
Prepare your staff and include them in the audit process so they gain an understanding of requirements and how the organization's procedures can be improved. Most employees will assume that an auditor is "out to get them" because he or she is actively looking for processes or procedures managed incorrectly. For this reason, it is essential for management to make it clear to staff that the audit findings are used to improve the organization, not necessarily as ammunition for job termination. Employers should stress that auditors are looking for evidence or the written instructions for doing the steps of their jobs. To alleviate concerns, assign someone to sit with the auditor, which will show the importance that management places on the event as a whole. One benefit of having an individual sit with the auditor is they can help answer general questions or find missing items and allow the auditor to keep moving forward on other items. Rotating employees in and out of this role through a multiple day audit can help prevent one person from falling behind on daily work, as well as educate others on the importance of Process Safety Management (PSM) Programs.
PROVIDE A PSM SUMMARY
A summary of your PSM Program (listing all covered processes, chemicals, equipment, etc.) is a great document to be able to hand to an auditor. Your summary will limit the search parameters and prevent chasing documents or information that not required in your PSM Program. Depending on the size of your facility, consider organizing information required into binders – either by equipment or by PSM Protocol section.
OBSERVE FEDERAL REGULATIONS
Lastly, the best way to be prepared for a PSM audit is to abide by the federal regulations as well as company-issued processes all year long. PSM Programs should be an ongoing process for life, environment, and property to be kept safe during daily operations.
Some of the key applicable statutes located in the Code of Federal Registers, Title 29 (29 CFR 1900 et seq.) are:
1910.119(o) Compliance Audits
1910.119(o)(1)
Employers shall certify that they have evaluated compliance with the provisions of this section at least every three years to verify that the procedures and practices developed under the standard are adequate and are being followed.
1910.119(o)(2)
The compliance audit shall be conducted by at least one person knowledgeable in the process.
1910.119(o)(3)
A report of the findings of the audit shall be developed.
1910.119(o)(4)
The employer shall promptly determine and document an appropriate response to each of the findings of the compliance audit, and document that deficiencies have been corrected.
1910.119(o)(5)
Employers shall retain the two (2) most recent compliance audit reports.
Information in the document was sourced through www.osha.gov and www.ecfr.gov. Please reference these sources for additional information.