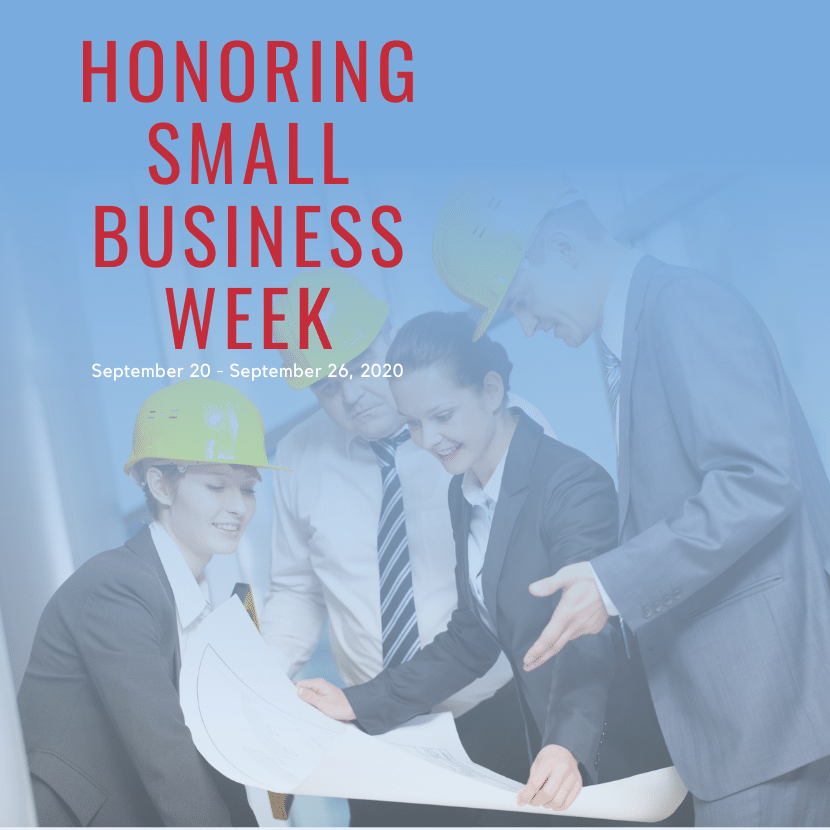 One-Stop Shopping with a Small Business
As we wrap up
National Small Business Week (Sept 20-26, 2020)
, I wanted to share my thoughts on owning a small business in America.  I read
President Trump's Proclamation
and was drawn to the statement:
"During this National Small Business Week, we celebrate the success of our American entrepreneurs who have chartered their own courses to provide jobs and a bright future for millions of American workers."  
My small business is Adley Services, LLC.  We are a full-service engineering firm that calls Lafayette, LA home, but our workplace is all across this great country.
Adley Services was built out of a need for personal engineering services, a collaboration of great minds, and freedom from corporate boundaries.  I wanted a place I could build personal relationships with my clients and with my employees.  I wanted a place where I could surround myself with a diversity of technical and business knowledge.  I wanted a place I could take on new and different opportunities with no reservations.  Adley Services is an American Small Business built with constant perseverance and hard work.  It has thrived on the core values of entrepreneurship and the notion that we can provide better engineering services for our clients and a better place to work for our employees than our corporate competition.
PERSONAL SERVICE
Adley listens.  We build relationships with our clients to understand their issues, allowing us to provide effective solutions.  We offer the same quality of service to all our clients for any size project.  Our employees choose to work at Adley because of the culture of shared success both professionally and personally.
DIVERSE KNOWLEDGE
Adley finds solutions.  Our engineers are well versed in all aspects of engineering and process safety.  Our diverse team collaborates on solutions.  We share knowledge to make each team member better and to offer the best services to our clients.
NO BOUNDARIES
Adley is your "easy button."  We offer personalized service that fits our client's needs with proper support and no red tape.  Specific job functions or cookie-cutter applications do not limit us.  At Adley, the answer is, "Yes, now how do we get there?"
Adley Services offers full-service engineering solutions with the sky as the limit.  Our clients benefit from using a small business because:
Adley can react fast to our client's needs.
Adley offers comprehensive solutions tailored to each client.
Adley has consistently high standards through management involvement in quality control.
Adley keeps costs down with minimal support staff.
We consider Adley a local small business with a national impact.  We do our part by supporting other local businesses within our city because this is the place we love.  But supporting local business does not mean that you should only support businesses near you.  Small businesses do not only help the local economy at home but build healthy, supportive communities across America.  Using small businesses, no matter where they are located keeps the capital circulating through the communities.  Patronage to small businesses puts revenues back into the communities across America, where each of us calls home.  Adley employees understand that sometimes you need to reach outside of your community to find the right engineering service provider, and that provider can be Adley Services.
Adley Services is not only a small business but a woman-owned business in a male-dominant field – engineering.  I do not feel that has made my journey any more complicated than those around me, but I think it highlights that no matter your goal, set your sights high, work hard, and you can achieve anything.
If you would like to support our small business and learn more about how Adley Services can fill your engineering or process safety needs, please check us out at
www.AdleyServices.com
.
Regards,
Susan Frizzell
References: