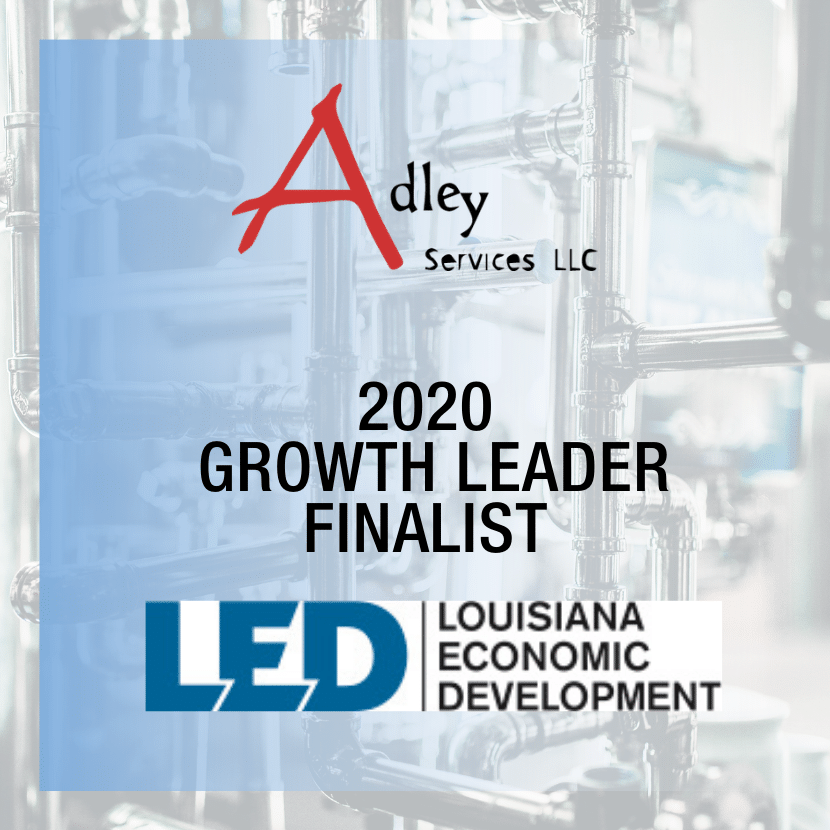 FOR IMMEDIATE RELEASE
(Lafayette, LA., Sept.18, 2020) Adley Services, a full-service oil & gas engineering firm, is honored to be named a 2020 Growth Leader finalist by Louisiana Economic Development (LED). Ten winners and 21 finalists, including Adley Services, were recognized by Gov. John Bel Edwards and LED Secretary Don Pierson at the third annual Spotlight Louisiana event, held virtually on September 17, 2020.
"Each of these honorees has persevered as a strong and vibrant small business," said Louisiana Governor, John Bel Edwards. "You exemplify the best of what Louisiana has to offer, and I look forward to your continued success in the years to come."
GROWTH LEADER PROGRAM
Louisiana Growth Leaders is an annual recognition program of the LED Growth Network. Winning companies and their leadership have demonstrated outstanding contributions to their local communities and the economy of Louisiana. LED Growth Network companies from across Louisiana are eligible to apply. For the 2020 awards, a 14-member panel of economic development professionals evaluated 58 applicants on qualities including growth, strategy, innovation, leadership/culture, and philanthropy.
"I'm thrilled to receive this recognition for the professional and community work we are involved with," said Susan Frizzell, president of Adley Services. "In the next four years, the company plans to expand globally, working with companies in Australia and China. Adley is also pioneering ways to handle safely and process hazardous chemicals for large corporations around the world. In the community, we are heavily involved with veteran organizations, and we support the LAGCOE Education Fund, which provides scholarships to students in engineering or science-related fields."
LED GROWTH NETWORK
LED Growth Network members are second-stage businesses: companies beyond the startup stage and poised for growth, but not yet mature. Businesses enter the LED Growth Network by participating in LED programs tailored to second-stage companies. Created in 2017, the LED Growth Network now consists of more than 425 second-stage companies from all eight regions of Louisiana. These companies collectively account for over $3.3 billion in annual sales and employ 15,600 people.
Susan Frizzell credits the LED Growth Network for contributing to Adley's success.
"Through our involvement in the LED Growth Leader Network, Adley has access to a wealth of information, resources, and relationships. It's a vibrant and inspiring group of companies."
ABOUT LED
Louisiana Economic Development is responsible for strengthening the state's business environment and creating a more vibrant Louisiana economy. LED cultivates jobs and economic opportunities for the people of Louisiana and promotes business opportunities for employers of all sizes.
ABOUT ADLEY SERVICES
Founded in 2016, in Lafayette, Louisiana, Adley Services is a woman-owned engineering firm
focused on workplace safety and environmental protection. With over 20 years of experience, Adley Services provides clients assistance with regulatory compliance in the oil and gas, chemical, and other industrial sectors.